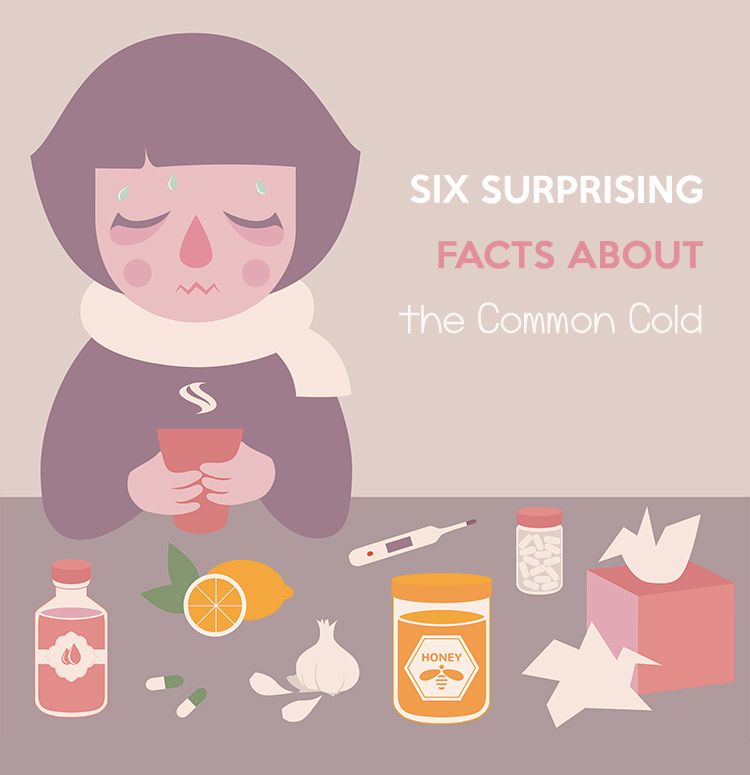 The common cold is so common that many of us think we know an awful lot about this viral infection. However, it turns out that much of what we believe about the common cold is not true. For example, did you know that it is very difficult to catch a cold by kissing someone who is already infected? It's true. Research has shown that only one of 13 people who kiss someone with a cold is likely to come down with one themselves.
Here are six more surprising facts about the common cold:
The Cold Virus Doesn't Make You Feel Ill

As with many other common illnesses, the cold virus is not actually that which makes us feel ill. The symptoms of a cold are the direct result of the immune system fighting back against a foreign invader. It is the work of the immune system that causes the runny nose, sore throat, and cough associated with a cold.

The Common Cold Has No Cure

Despite what you may believe, the common cold has no known cure. Unfortunately, medical suppliers have become obsessed with pushing products such as antibacterial gel as a means of preventing colds. Nonetheless, these only work on bacteria ‐ a cold is caused by a virus. Vitamin C doesn't help much either, once the symptoms of a cold begin to appear.

Old People Are Less Likely To Catch A Cold

If it seems like young people are more affected by colds than older people are, it is not your imagination. Research has shown that the older one gets, the less likely he or she is to catch a cold. People over the age of 75 tend to have just one cold per year while children will typically catch colds 4 to 8 times annually.

Keeping Your Distance Can Help You Avoid Colds

Research has shown that the water droplets expelled when a person sneezes can travel as far as 6 feet. Experts say you can avoid catching a cold by keeping your distance from people you know are already infected, as well as people you know who have been exposed to others with a cold even though they themselves might appear healthy.

Women Are More Likely To Catch Colds Than Men

Statistics show that women are more likely to catch colds than men are. Experts suggest this is because they have more contact with children who, as we have already seen, are the most susceptible to the common cold. Furthermore, colds are most contagious in the 48 hours between virus exposure and the appearance of symptoms. This means that mothers do not even realise their children have the cold virus until days after they have already been exposed. It also means they are more likely to get sick right along with their kids.

Cold Weather Makes Catching A Cold Easier

Your mother was right when she told you cold weather increases your chances of getting a cold. However, her reasoning may have been wrong. It is not a lower body temperature that causes the problem; it is low humidity levels. The less moisture in the air, the further the cold virus can travel in water droplets that are coughed or sneezed. Furthermore, cold weather produces dry air that dries out the nasal passages to provide the perfect environment for the cold virus to multiply.
There is a lot more to the common cold than many people think. Furthermore, avoiding colds requires a little bit more than just purchasing medical supplies. The next time you are not feeling well, keep in mind what you've learned here about that virus that's bothering you.
Sources
1. Daily Mail – http://www.dailymail.co.uk/health/article-141121/Four-surprising-facts-common-cold.html
2. NHS – http://www.nhs.uk/Livewell/coldsandflu/Pages/Fivefactsaboutcolds.aspx
3. Smithsonian – http://www.smithsonianmag.com/science-nature/five-surprising-facts-about-the-common-cold-23293218/?no-ist